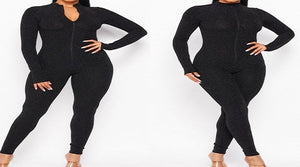 Why You Should Wear Womens Jumpsuit Dress This Christmas
Jumpsuit- the iconic one-piece fashion outfit that looks stunning and can be worn on any occasion. The versatile and elegant outfit is always in demand and can never go wrong. Christmas is around the corner and so are your party invitations. As the party mood is nearing, the question of what to wear and what not to is going to be always on your mind. Gowns, dresses, and jeans are a regular affair, but this time goes differently with Womens long Jumpsuit. Whether you are going to attend a formal party with your boss or a movie with your friends or a brunch date with your partner, a Jumpsuit will bring out a stylish yet comfortable look. 
Confused about your outfit this Christmas? Step out in Style with Jumpsuits. Shoppingpreety is ready to answer your bugging question about the outfit. Let's find out: 
Why do you need to choose a Jumpsuit this Christmas? 
Jumpsuits are such an attribute to Wardrobe, the versatile outfit gives you many reasons to flaunt and steal the show. We are listing a few reasons here: 
They are versatile and flattering: A Womens Jumpsuit dress is so versatile, you can use them in any function or gathering on Christmas. Whether you are attending a formal Christmas party or a family get-together, you are going to steal the show. They look classy and elegant for any occasion. 
They are comfortable: The most important reason you need to have a Jumpsuit dress this Christmas, they are so Comfy. Womens long jumpsuit brings so much comfort. If you are someone who doesn't like to wear extravagant gowns or dresses but are looking for something elegant, Jumpsuit dresses are for you. 
They are suitable for any kind of Footwear: You can try them with any footwear like Sandals, ballet flats, boots, high heels, flip-flops. Womens jumpsuit dress Paired with footwear and the right accessories, you are ready to rock. 
They can pull off any look: Want to look formal or casual or elegant for a Christmas date? Well! One solution, Womens Jumpsuit dress, is the versatile, Comfortable, and flattering outfit that can be used for any occasion at any place. This can be your go-to outfit for Christmas week. 
How to pull off a Jumpsuit or Romper perfectly? 
If you are a fan of Jumpsuit but worry about wearing them effortlessly, then these tips will help you: 
Find your fit: First things first, find a Womens jumpsuit dress that fits your body perfectly. Light or lose fit will make you look bad and will not bring out a good outcome. Therefore, make sure you find your perfect fit.
Define your waistline: Most of the Womens long jumpsuits have defined at the waist or are belted that add femininity and flaunt your curves. Therefore, make sure you find a Jumpsuit that suits your waistline. 
Pair it with Blazer: want to look elegant or Classy? Pair your Jumpsuit with Blazer. If you are attending a formal gathering this Christmas, this pair is perfect for you to try. 
Footwear: Though Womens Jumpsuit dress suits almost all types of footwear, so if you want to go comfortable try flats, if not try heels especially if you are wearing wide-leg jumpsuits such as Butterflies jumpsuit. 
Solid Color Jumpsuits always fit Irrespective of occasion or style, Solid color is always going to fit. Try a dark blue jumpsuit this time. 
What are various Jumpsuit dresses you can try this Christmas? 
You can find various Stylish, and versatile Jumpsuits that will suitable for any type of gathering offered by Shoppingpreety such as: 
Solid Color Jumpsuits: Various solid color outfits with different sleeves, styles, and shapes at affordable rates can bring out your look in a more stunning way. Solid Color such as dark blue Jumpsuit is highly suitable for Winters and looks elegant for formal parties. 
Butterfly jumpsuits: Complete your Closet with a Butterflies jumpsuit, the a-line jumpsuits are either for the shape of a butterfly with butterfly sleeves or have a beautiful butterfly print. The high-quality and affordable clothing looks amazing for family gatherings this Christmas. You can pair this stunning Jumpsuit with high heels and a high ponytail. 
Unique styles: If you want to go with unique styles, try cut-out designs or one-shoulder or open-back Womens jumpsuit dress to look hot. These stunning pieces will flaunt your fitness, curves aesthetically. 
Rompers: Jumpsuit or its perfect twin Romper look flattering, you will fall in love with their style. The butterfly Rompers are great to wear for dinners, clubbing, movies, or brunch dates on Christmas. 
Get your perfect Jumpsuit or Romper from Shoppingpreety
Enough of extravagant gowns or the same dresses, this Christmas brings out your unique and Confident personality. Step out in Style with a Woman jumpsuit dress paired with your favorite wedges or stilettos.
Shoppingpreety
offers high-quality and stylish Jumpsuits at
affordable
rates. Their wide collection has everything you need to make heads turn. From Solid colors to stunning prints to stylish cuts, They offer amazing styles with
quality
fabric.
---