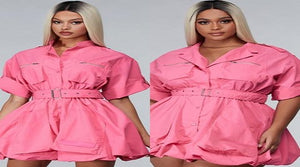 Take The Limelight Of Parties With Plus Size Women Dresses
Many times, the festive season is incomplete without a party to attend. Be it your best friend's birthday, or a colleague's farewell soiree, you surely have a lot of invitations to go around. And be it any kind of party- formal or informal, an office event, or a casual get-together with your girlfriends; nothing is complete without your presence! Your fiery and vivacious personality is all that adds life and color to any party and you need to be dressed up in the best clothes. Everyone knows that when it comes to dressing up, plus-size women's clothes prove to be a bit of a challenge for most plus-size ladies. But we assure you, there is no need to worry! We at shoppingpreety.com, a leading online store that provides high-quality and affordable clothing products that cater especially to plus-size women's needs.
At Shoppingpreety, we will help you find the best clothes for different kinds of parties by compiling a list of ideal outfits fit for all kinds of occasions.
So, read along to learn what you need to wear for different kinds of parties if you're looking for plus-size women's dresses.


Winter Formal Parties Women's Plus Size Dresses
If you are looking for ideal party dresses specifically for the winter season, then we suggest that you go for A-line dresses in beautiful colors like black, brown, dark red, blue, etc. These dresses look beautiful with the addition of shimmering sequins and embroidery.

Long coats in fur with slim-fit pants, or light trench coats paired with vibrant party dresses are perfect for winter formal parties. Remember to stay away from bright colors during the winters, go for earthy tones instead! Also, avoid too many accessories since they can look very gaudy in winter.

Reassurance Dress is one of the most popular brands that provide the best quality and affordable clothing products to plus-size women. If you're looking for plus-size women's clothes, including products from the Reassurance Dress brand, your best place to start your search is from shoppingpreety.com.


Formal Parties Women's Plus Size Dresses
For formal parties, you can wear a body-con dress or a well-fitting cocktail dress with sky-high heels. These dresses look very classy and elegant so they are perfect for almost any occasion. But be careful to avoid too much skin exposure since it can make you look vulgar.


Evening Parties Women's Plus Size Dresses
For casual evening parties, you could wear a knee-length skirt with the edges hemmed in black and paired with a crop top or long tee shirt. Cute flats along with minimal accessories like earrings and bangles.


Formal Plus Size Women Clothing
A-line dresses in neutral colors like black, beige, etc., work the best for formal parties. If you are going to an office party or a casual afternoon tea with your girls, then you can wear a slim-fit dress along with matching accessories and heels to complete the look! Another idea is to go for a dress with a classic look, like a black pencil dress or a little black number. You can also try wearing an embroidered or sequinned party top with black pants and heels! You can also wear subtle prints on your dresses during formal parties as it adds an elegant touch to the outfit. Embroidery too can work well in formal dresses for plus-size women.


Semi-Formal Parties
If you have been invited to a semi-formal party, then our advice is not to go overboard with the clothes. You would want to look cute and casual, but at the same time classy and elegant. Most plus-size women's clothes brands manufacture a wide range of dresses in flattering cuts and vibrant colors, so you will have a lot to choose from! You can pair your party dress with a trench coat or an embroidered blazer for semi-formal parties. On the other hand, you may also go for a simple pencil dress with a belt.


Office Parties
If you are going to an office party, then you should stick to something more formal rather than casual since it's work after all! You can wear a knee-length pencil dress with matching heels for this purpose and style your hair in a sleek ponytail.


Women's Plus Size Dresses with minimal accessories
If you want something similar to the semi-formal party dresses we talked about, but not so flashy and loud, then we suggest that you wear an A-line dress with minimal accessories and heels for this occasion. For office parties, you can also wear an A-line dress that is shorter in the front and longer at the back; not too short or it can look inappropriate. Stay away from bright colors for this party since office parties are supposed to be formal.


A-Line Plus size clothing
A-line dresses are the most sought-after party dresses for women in general, and they never go out of fashion! Plus size women can choose from a range of fun colors and diverse cuts when it comes to A-line dresses that look good on curvy figures. If you want your dress to be long for Your Type Set, then we suggest that you pair it with a belt to make your waist seem slimmer. But if you are opting for a shorter A-line dress, then go ahead and style it however you want! Add bright colors, or funky designs to make your look more fun and hip!
---